The Text Messaging Platform With the Power to Transform the Bottom Line of Virtually Any Business. Including Yours.
Gain the profit-growing advantages of intelligent text message marketing tools – for less than you may have ever imagined.
Optimize your business landline for texting in minutes and
start texting with your customers right away.
It's quick and easy:
1
Sign up with Zebyl messaging service
2
Your landline business telephone number will be optimized for texting
3
Start texting your customers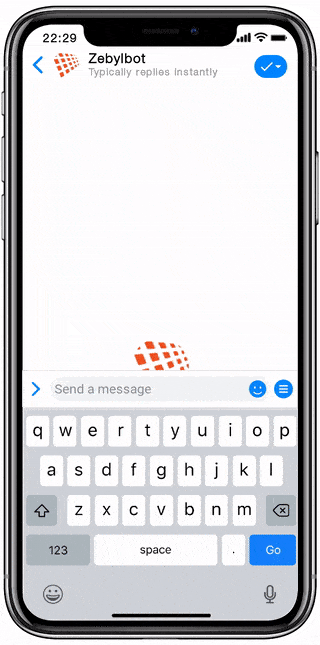 Experience the state of the art in text messaging, including:
Intelligent Chatbot Conversations

Use AI to engage in real conversations with customers on your website—without human intervention

Text Messaging Using Your LANDLINE Number

Optimize your landline phone number by enabling text messaging with customers—and see how to prevent misuse of it by other firms

Text Messaging Campaigns to Your Customer List

Quickly and easily market new products and services to your full customer list—or to relevant segments—at times you choose

Sell products and services via Text Messaging

When digital conversations flow naturally, prospects tend to be more inclined to take that final step and buy . . . directly from your text message

Unified Online Review Management

Send review links via text and messenger—including Facebook Messenger—to raise your review volume and easily monitor reviews

Click-to-Text Buttons

Add a link or button to your website that opens a text message when clicked, to increase engagement, lead volume, and new customers
Fact: Nine out of 10 consumers want to use messaging to communicate with brands.

"We heavily rely on Zebyl text messaging for business to reach our business partners all across Kenya. Zebyl Text messaging campaigns help us effortlessly orchestrate crop delivery schedule with personalized messages sent to each partner including the exact information they need. I cant imagine our scheduling process without Zebyl."
Micah,
Operations Manager at Kentegra Biotech "Before Zebyl, our mornings were deluged by checking voicemails and calling patients back. Sometimes whole mornings were being wasted trying to reach people and that was very unfortunate. But now with Zebyl, most of our patients just text us with any questions they need to ask and it takes very little time for us to respond."
– Klaudia,
Office Manager at Women's Global Health of Northern Virginia "One the features I love the most is the Zebyl text reminder. Its fully integrated to our EMR system and I don't have to press a single button. It automatically texts the patients appointment reminders from our office phone line."
– Klaudia,
Office Manager at Women's Global Health of Northern Virginia "Zebyl text messaging has changed the way our patients communicate with us. We use intelligent responses that automatically provide information to text inquiries about our cosmetic services without any manual effort."
Adela,
Office Manager at Walker Plastic Surgery "We have been using Zebyl cloud phone services and business texting for the past couple of years. We have multiple locations in Virginia and California and Zebyl cloud phone system has made our communications a lot more efficient with our personnel and also with our customers. The texting for business feature has tremendously helped us with our customer service and ticketing system and we are planning to use Zabyl Chatbots to automate our support process further. We highly recommend Zebyl services to any business."
– Reza,
President at Coltec Payment Services "We utilize Zebyl's managed VoIP, Text and e-fax service. The staff is both expertly knowledgeable and immediately responsive. They provide us top-notch platform network support and monitoring as well as reliable, timely assistance for day to day system management and updates. Zebyl is a provider any business can confidentially depend on!"
Christian Bouker,
Operations Manager at FMP Consulting "When patients receive the text reminder messages, they absolutely love it! Within seconds we start receiving responses back from patients to confirm their appointments, reschedules or sometimes they simply thank us. And we don't have to make a single phone call."
Eva,
Womens Global Health of Northern Virginia "I'm very happy both with the phone and the text service we receive from Zebyl. The quality of the service is great. I'd also like to acknowledge the quick customer service and availability of Zebyl team in providing advice about not only our phone and texting, but other related technical needs as well."
Sacha Shaygan, Esq.
Shaygan Legal, PC